Our History - A Family Tradition
Natives of Hamburg, Germany, Hans and Marie Fahden purchased our heirloom property in 1912. The Fahdens were hard working people who farmed the land growing grapes. When Prohibition was enacted in 1920, they turned to growing walnuts and prunes.
Sixty years later, grandsons Antone and Lyall Fahden made the decision to return to their roots and began growing grapes— specifically Cabernet Sauvignon. The third generation of Fahdens embarked on a new journey to restore the land and make it productive again.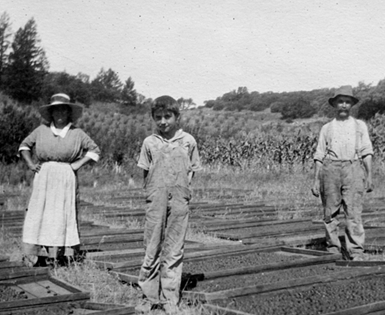 Marie and Hans with their son Wilbur drying prunes.
Three vineyard areas, separated by volcanic outcroppings and forests of Douglas Fir, were planted from 1982 to 1984. Ponds were created, roads were carved, and a wine cave was tunneled into a formation of volcanic tufa.

Hans Fahden Vineyards became officially bonded in 1986. The first bottle of wine was produced in 1987, and the winery began hosting guests for public tastings in 1996.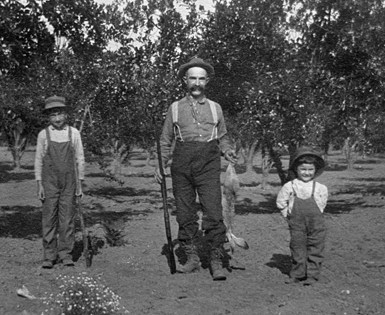 Hans Fahden rabbit hunting with his children Wilbur and Elenore.