Our Vineyard
The Hans Fahden Vineyards of Calistoga are found in the heart of the famed Mayacama Mountain range above the Sonoma and Napa Valleys. Millions of years' worth of now-dormant volcanic activity has created the perfect growing conditions in this world-famous wine region straddling the Napa/Sonoma County line.
Nature's Gifts:
What makes the wine of Hans Fahden Vineyards so good? It's one part soil and one part climate, both unique to this very special place between California's two most famous wine-growing regions.
Soil: Pure volcanic tufa (solid rock) is beneath a thin layer of topsoil throughout our estate, forcing our vines' roots to compete for a scarce water supply. This makes our fruit small and full of flavor.
Climate: Hot days and cool nights. Luckily, the beautiful Pacific Coast is 30 miles due west of Hans Fahden Vineyards, giving us cooler and often foggy evenings that allow the vines to rest at night, adding character and complexity to the wine.
What does this mean for our vineyards and the wine we produce? Nature's gifts provide intensely flavored, well-structured fruit and a much smaller than average yield, and we wouldn't have it any other way. At Hans Fahden, we focus our 100+ years of farming experience on quality over quantity. The Estate Reserve Cabernet Sauvignon is our flagship wine at an annual production of just 300 cases.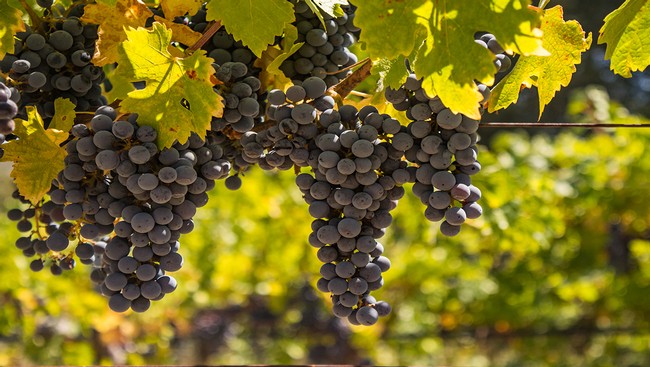 Estate Cabernet Sauvignon grapes await harvest season.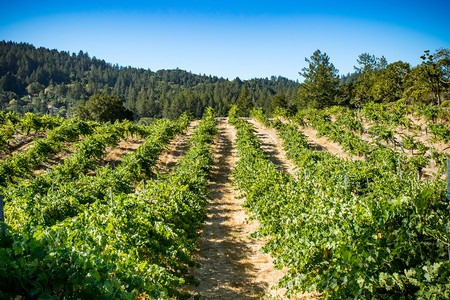 Our Estate Cabernet Sauvignon vines soak up the sun in the heart of the Mayacamas Mountains.